NCA 2018 Annual General Meeting
Monday, April 23rd, 2018  2:00 pm
NCA will be holding its Annual General Meeting at our office in Chapala office, Chacaltita 20.  Please visit our Contact Us for directions to the office.  The meeting is open to all NCA sponsors.
Registration will begin at 1:30 pm, and the meeting will start at 2:00pm.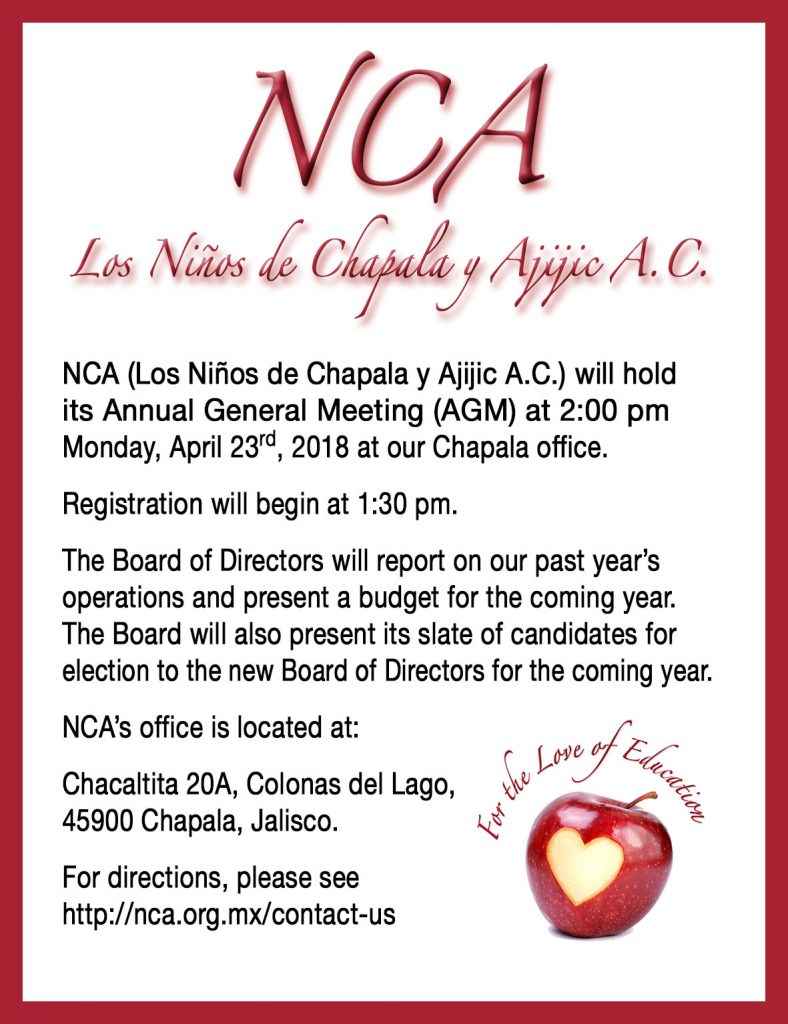 Paint the Lake Green!  A St. Patrick's Day Party & Fundraiser.
Saturday, March 17th, 2018  3:00 – 8:00 pm
Privada Ocampo#1, Centro Ajijic
Tickets are available now
at NCA's Bazaar in Riberas del Pilar, across from the 7-11
at NCA's office in Chapala (Chacaltita #20),
by email to tickets@NCA.org.mx,
by getting in touch with one of NCA's directors,
or call 33 1069 0084.
We've very exited to have a wonderful new venue for our upcoming event, courtesy of Mr. Doug Huffines. In addition to hosting the event, Doug is donating to NCA a gourmet supper for 10 prepared by private Chef Andrew Robertson, also to be hosted in his elegant home. Date for the dinner for 10 evening will be decided between Doug and the winner of the raffle.  Tickets will be available at our fund-raiser, as will our 50/50 draw.
We will once again have Karaoke courtesy of Dave Roberts and Pam Lamb. There will be a cash bar with beer, wine, soft drinks and water, along with my yet to be modified secret green margarita recipe.  Doug and Nancy Friend will be donating the bar to the event.
Our meal will feature smoked brisket, ribs and sausage, donated to the event by Juan Mata Texas Ranger BBQ.  Dessert will be a smoked apple pie and pistachio green ice cream.  Doug and Nancy Friend will be preparing the side dishes of potato salad and coleslaw.  Doug and Nancy are donating the side dishes to the event, as well as the beer, wine, soft drinks and margaritas.
Click on the play icon below to do a virtual 3D walkthrough of Doug Huffines' elegant Hacienda style home and grounds. Other walkthroughs are available by visiting http://www.haciendadellagomexico.com
The venue is located in central Ajijic on Privada Ocampo #1.  Privada Ocampo runs between Ocampo and Independencia, between 5 de Febrero and Pedro Moreno.  As usual, a detailed may with directions will be on the back side of the events tickets.
NCA's board of directors are very grateful to Mr. Huffines' for hosting this upcoming event and the gourmet dinner for 10 that we will be raffling, to Dave and Pam for providing the Karaoke, to Juan Mata for providing the smoked deliciousness, and to Doug and Nancy for the side dishes and drinks.  We're all looking forward to having a very exciting and fun St. Patrick's Day!