Sponsor Now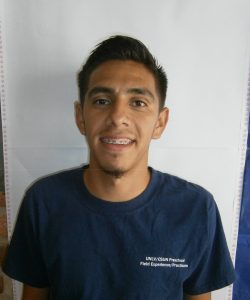 11/28/1997
89.6
Intituto Tecnologico Superior de Chapala
$1200.00
Eduardo is a mechatronic engineer. He likes to play football and to draw; the one he likes least is mathematics. He helps his mom to clean the house and his brother with everything.
The dad, Alberto Zuñiga, is unemployed. He completed elementary school. He is in good health.
The mom, Rosaura Cortes, works as a house keeper, earning $1200 pesos per month (aprox. $93 USD)and takes care of the home and children. She completed elementary school. She is in good health.
There are five people living in this household: Eduardo, his parents and two siblings. The services in the house are electricity, in-door plumbing, refrigerator, gas stove, drinking water, and radio. The house has four rooms, bathroom, two bedrooms, one full bed and three twin beds.