Sponsor Now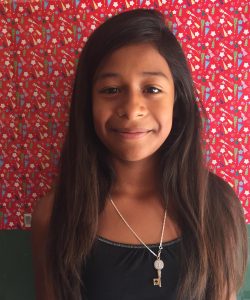 10/29/2006
9.5
Esc. Secundaria "Guadalupe Victoria"
$200.00
Luz likes to reading, dancing and crafts. Her favorite subject at school is Civic and ethical formation; her least favorite subject is Science. She likes to go to school and her mom helps her with the homework. She has a good relationship with her friends and she is very friendly. She cares her sibling. Her favorite sport is volleyball and her hero is her Dad. When she grows up, she would like to be a "Doctor".
Her dad doesn't live with her but he helps her economically with 600 pesos a week.
Her mom's name is Rosa; she has an elementary school education. She has a good health. Rosa sells products by catalogs.
Luz shares her home with her mom and her sister Naomi. Their home has a bath, kitchen and one bedroom with one full bed.