Sponsor Now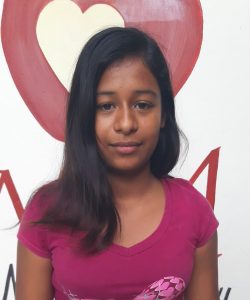 10/29/2006
9.6
Esc. Secundaria "Guadalupe Victoria"
$200.00
Yaretzi is a nice young girl. She has a shy personality, but that is not an obstacle to be sociable. She likes to go to school, her favorite mathematics. She is a good student with a GPA of 9 out of 10.
She would like to study medicine because she wants to help people. In her spare time, she likes to play volleyball with her friends, listen to music, and spend time with her family. She helps her parents with house chores. She has a vision problem.
Her dad´s name is Roberto his health is regular, he work as civil engineer.
Her mom's name is Rosa her health is good, she works selling by catalogs.
Home: Yaretzi shares her home with her parents, her younger sister, and a cousin. The house where they live is own, it has a kitchen, one bedroom with one full bed and one Individual bed. .