Sponsor Now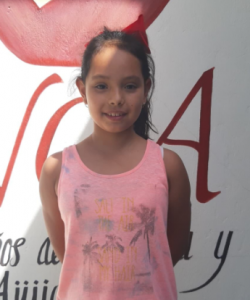 09/15/2011
9.6
Esc. Primaria "José Encarnación Rosas"
$100.00
She would like to be a Doctor.
Ximena is a friendly and cheerful girl. She likes to go to school, her favorite subject at school is mathematics and her least favorite is Civic formation, she has high aspirations in life, she would like to be a Doctor because she would like to treat sick people. She likes to read books. She gets along well with her family, she loves family meetings. She has many friends; she likes to play basketball with them. At home, she helps her mother with the home duties, and in her free time, she likes to read.
Her dad doesn´t live with her.
Her mom's name is Nancy. She has an elementary school education. She works as a cashier in a grocery store.
Home: Ximena live with her mother, her uncle, aunt, grandmother and her older brother. Their home has a kitchen and three bedrooms with two full beds and three single beds.