Sponsor Now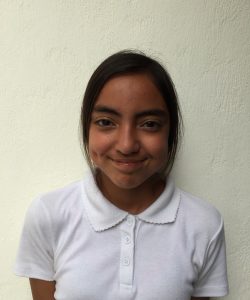 01/16/2007
10
Esc. Secundaria Federal 41 "Santos Degollado"
$200.00
Yolanda would like to be a Public Accountant.
Yolanda is a cheerful young woman, she likes to spend time doing her homework, she likes to go to school, she likes all subjects, but her favorite class is Mathematics. She plays in the Chapala's marching band, she practices 3 days a week. Also, she is in the school choir. Her favorite sport is basketball. She is very active, in her free time she likes to read horror stories and watch movies with her mother. She likes to go out with her friends to play basketball with them. She helps her mother with the housework. She wants to be a Public Accountant because she likes mathematics.
Her father does not live with them.
Her mom's name is Rosalinda, she study to be Public Accountant.
Her health is not good, she has epilepsy attacks frequently. She works in her own sewing business.
Home: Yolanda shares her home with her mother. Their rent a small house, it has a kitchen, and two bedrooms with one full bed.