Sponsor Now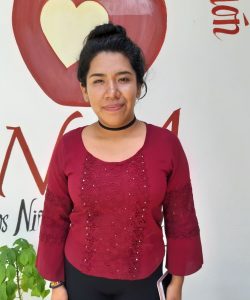 01/29/2000
87.6
Centro Universitario del Sur (CUSUR)
$1200.00
Karen is an active cheerful child, also she likes to go to school. Actually she is study Veterinary, so her favorite subject at school is veterinary in anatomy and her least favorite is veterinary in history. One of her hability is draw. In general she gets along well with her family and friends, in common she helps her mother with the housework. She likes to help his siblings with the homework. She chose the career of a veterinary because she likes the life of the animals, too in her spare time she likes to comb and make up her sister.
Her dad´s name is Juan Antonio. He has junior school education. He works as a plumber.
Her mom's name is Maria de los Angeles. She has an elementary school education. She works as a housewife.
Home: Karen shares her home only with her parents and five sisters. Their home has a kitchen, one living room, and three bedrooms with two full beds and four single beds.