Sponsor Now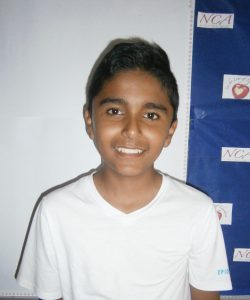 Juan is active child, to some extent he is optimistic, essentially he is a practical person. Too likes to play football. His favorite subject at school is Spanish and his least favorite is Mathematics. He likes to go to school and he's very gentile. He has a lot of friends, and he helps to his parents by cleaning his room. His parents think that he is a good son who is very obedient. His health is good and when he grows up, he wants to be an agricultural engineer.
His mother Carmen has a Secondary Education. Her health is good and she is a housemaid.
Home: Juan shares his home with his mother and sister. Their home has a bathroom, a kitchen and a bedroom with a full bed and two single beds.