Sponsor Now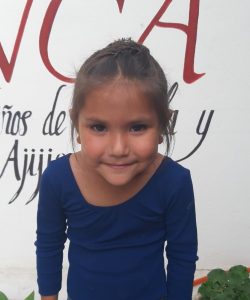 11/24/2014
nd
Esc. Primaria "Juan Rulfo"
$100.00
TRINIDAD WOULD LIKE TO BE A DOCTOR.
Trinidad is a cheerful girl she is always smiling. She likes to go to school; she is good at drawing and counting numbers. She has a shy personality, but she is learning to make friends at school. Also, she likes to play with her toys.
At her young age, she said she would like to be a doctor because she wants to help people. She helps her family with simple chores according to her age like picking up her toys and watch out of her younger brothers.
Her dad´s name is Octavio; he works as Policeman, his health is regular.
Her mom's name is Adriana; she takes care of the house and her family, her health is stable.
Home: Trinidad shares her home with her parents, two brothers, and one sister and with her uncle. Their house is own, it has a kitchen and two bedrooms with two full beds.