Sponsor Now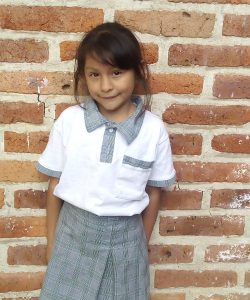 03/10/2011
8.1
Esc. Primaria "Basilio Vadillo"
$100.00
Valeria likes to paint. Her favorite subject at school is Physic Education and her least favorite is Mathematics. She likes to go to school and she has a lot of friends. Valeria helps her mom with pick up her shoes. Her favorite sport is play dolls. When she grows up, she would like to become in a "Teacher".
Her dad's name is Javier. He has a junior school education; his health is good. He works as a gardener.
Her mom's name is Marisol. She has a secondary school education; her health is good. She is a housewife.
Valeria shares her home with her mom, dad, her baby sister Madelyn and her maternal grandparents. Their home has kitchen, bath and two bedrooms with two full beds and one single bed.