Sponsor Now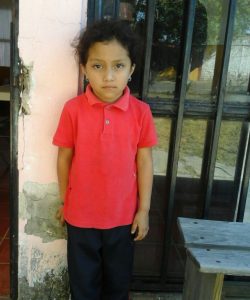 10/19/2012
8.6
Esc. Primaria "Jose Maria Arreola"
$100.00
Maria is an active child, so she likes to go to school. She has skills to sing and dance and her parents think that she is a good daughter. She has few friends. She gets along well with her friends and they think that she is friendly. She has a calm temperament. In fact, she helps her mom with household chores. Her favorite sport is practicing yoga. She would like to be a Painter when she grew up.
Her dad´s name is Carlos. He has a junior school education. He works as a plumber.
Her mom's name is Monica. She has a junior school education. She works as an employed.
Maria shares her home only with her parents, one brother and one sister. Their home has a living room, one kitchen, and two bedroom with two full beds and one single bed.