Sponsor Now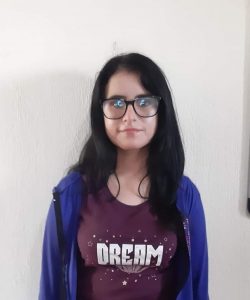 08/14/2006
82
Preparatoria Regional Jocotepec
$400.00
Tanya would like to be a Chef. Tanya likes to go to school her favorite subject at school is Spanish and her least favorite is Mathematics. She has writing skills She has a few close friends. She gets along well with his friends and with his family. She has a shy personality. She is working hard to get high grades. Her favorite sport is basketball. She has astigmatism. Her favorite hobby is drawing. And, She would like to be a Chef.
Her dad´s name is Jorge. He has an elementary school education. He doesn´t live with them.
Her mom's name is Lini. She has a junior school education. She works as an employed.
Home: Tanya shares her home only with her mother, grandparents, and three sisters. Their home has a kitchen, one living room, and three bedroom with one full bed and four single bed.