Sponsor Now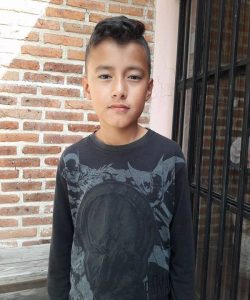 09/08/2006
9.28
Esc. Primaria "José Encarnación Rosas"
$100.00
Javier likes to play the trumpet. His favorite subject at school is Mathematics and his least favorite is Sciences. He likes to go to school. He has a lot of help from his mother with his school work. He has a lot of friends, and he's very quiet but friendly. His health is good and he likes football. When he grows up, he wants to be a Doctor.
His father Javier has an Elementary Education. His health is good and he works as a bricklayer.
His mother María has a Secondary Education. Her health good and she is a housemaid.
Home: Javier lives at his grandparents' house with his parents and his two siblings. Their home has a living room, two bathrooms, a kitchen and three bedrooms with a full bed and two single beds.