Sponsor Now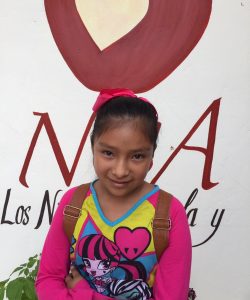 11/09/2008
8.9
Esc. Secundaria Federal 41 "Santos Degollado"
$200.00
Wendy is a quiet girl, she likes to draw and jump the rope.
Her favorite subject at school is Mathematics and her least favorite is Civics. She likes to go to school. She has a lot of help from her mother with her schoolwork.
She is learning English, she practice the vocabulary with her brother, and is learning too. When she grows up, she wants to be a Teacher.
Her father Mauricio has a High school Education. His health is good and he works as a gardener.
Her mother Angélica has an Elementary Education. Her health good and she is a housewife.
Home: Wendy shares her home with her parents and her two siblings. Their home has a bathroom, a kitchen and a bedroom with a full bed and two single beds.