Sponsor Now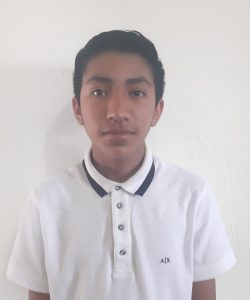 12/09/2006
73
Preparatoria Regional de Chapala
$400.00
Alexis likes to workout. His favorite subject at school is Mathematics and his least favorite is History. He likes to go to school. He has a lot of help from his mother with his school work. He has only a few friends, and he's very quiet. His health is good and he likes to play football. When he grows up, he wants to be a Teacher.
His father Mauricio has a High school Education. His health is good and he works as a gardener.
His mother Angélica has an Elementary Education. Her health good and she is a housewife.
Home: Alexis shares his home with his parents and his two siblings. Their home has a bathroom, a kitchen and a bedroom with a full bed and two single beds.