Sponsor Now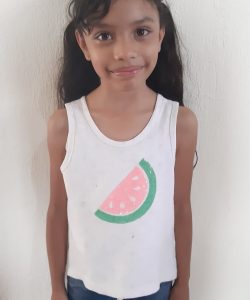 01/13/2012
9.9
Esc. Primaria "José Encarnación Rosas"
$100.00
Minerva likes to play. She likes to go to school. Her parents help her with her homework. She has many friends and her temperament is quiet. She helps her parents with cleaning her toys. She likes to play with her dolls. She would like to be a Teacher. Her favorite character is "Elsa" from the frozen movie.
Her dad´s name Victor has a junior high school education. His health is good. He works as a blacksmith.
Her mom's name Maria has a high school education. Her health is good. She doesn´t work, she does the house work.
Home: Minerva shares her home with her mother, father, one sister and one brother. Their home has a living room, one bath and two bedrooms with 3 full beds.