Sponsor Now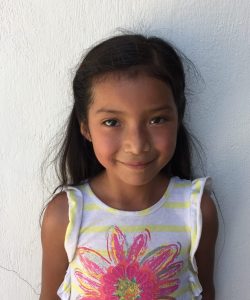 10/11/2013
10
Esc. Primaria "Juan Rulfo"
$100.00
TANIA WOULD LIKE TO BE A TEACHER.
She is a shy little girl. She is sincere and honest. She likes to go to school. Her favorite subject is Math but she doesn´t like history. Tania would like to be a teacher because she would love to teach others.
She likes to dance, listen to music and play different kinds of sports. She loves to play with her dolls and run with her cousins. Also, she likes to spend time with her family; they usually go to the park to play.
Her dad´s name is Gerardo. He finished high school; his health is regular because he has digestive problems. He works as a gardener.
Her mom's name is Maria. She has an Elementary education, she has colitis but despite that her health is stable, she is a housewife.
Home: Tania shares her home with his parents and two sisters. The house where they live is own, it has one big room with divisions to separate the kitchen, Livingroom and the beds.