Sponsor Now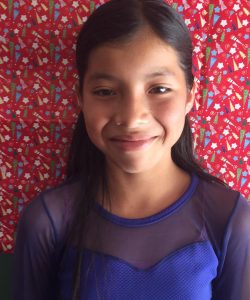 08/23/2006
9.5
Preparatoria Regional de Chapala
$400.00
Maria likes to reading. In the school her favorite subject is Science and her least favorite is Mathematics. She likes to go to school and her father helps with her homework. She is very friendly and she has a good relationship; her temperament is very serious. She cares her siblings and playing with them. Maria likes to run and her hero is "Miguel Hidalgo". When she grows up, she would like to be a "Doctor".
Her dad's name is Gerardo; he finished high school. Gerardo has a good health. He is an employee in a hardware store.
Her mom's name is Maria; she has an elementary school education. Her health is good. She is a housewife.
Home: Maria shares her home with her mom, dad and two sisters; Tania and Alexa. Their home has a bath and one bedroom with one full bed and one single bed.