Sponsor Now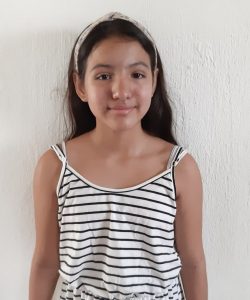 12/24/2008
9.6
Esc. Secundaria Francisco Rodriguez Gomez Foranea 75
$200.00
Guadalupe likes to dance, to sing and she likes to use the computer. Her favorite subject at school is Mathematics and her least favorite is Natural Sciences. She doesn't like that much to go to school; she's very independent and she doesn't need any help for her school work. She has only a few friends and she has a very strong personality, although she helps to her mother to take care of her baby sister. Her health is good and she likes baseball. When she grows up, she wants to be a Marine Biologist.
Her mother María has a Secondary Education. Her health is good and she is a housemaid.
Her father Luis has an Elementary Education. His health is good and he's a bricklayer. He doesn't live with them, but he gives them a monthly pension.
Home: Guadalupe shares her home with her mother and her baby sister. They rent the house, and it has a living room, a bathroom, a kitchen and three bedrooms with a full bed and a single bed.