Sponsor Now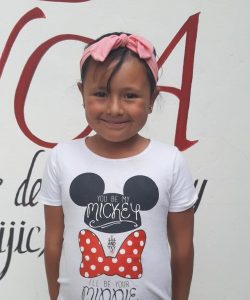 09/28/2013
9.5
Esc. Primaria "José Encarnación Rosas"
$100.00
Renata would like to be a firefighter
Renata is a cheerful child, her first year at Elementary school has not been easy for her, but she has good grades. Her class favorite is Spanish, but she does not like mathematics. She likes to play with her mom's cell phone. She has many friends and she likes to play with them.
Also, she likes to go visit her cousins. She helps her parents with cleaning her room and to pick up her toys. She would like to be a firefighter because she wants to extinguish fires and help the people to stay safe.
Her dad´s her name is Diego, works as a driver delivering product to stores.
Her mom's name is Alma; she is a housewife.
Home: Renata shares her home with her parents and her grandparents. They live in her grandparents' house. It has a kitchen, a living room, and three bedrooms with three full beds and one regular bed.