Sponsor Now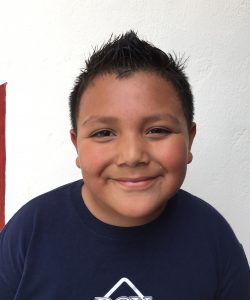 06/20/2012
9.7
Esc. Primaria "José Encarnación Rosas"
$100.00
Gael would like to be a Soccer Player
Gael is a cheerful and calm boy. He likes to go to school, his favorite class is mathematics. He does not like to write so much. He has many friends, he likes to plays with them to hide and seek. In his free time, he likes to draw and to watch TV.
He helps his parents with the housework and also he helps his younger brother with his homework. He wants to be a Soccer Player because he loves to play that sport. He enjoys going to the park with his family.
His dad´s name is Raymundo; he works in a private company as a security guard.
His mom's name is Sandra; she is a housewife.
Home: Gael shares his home with his parents, one young brother and one baby sister, also, aunt and his grandfather live with them. The house is borrowed by his grandfather. The house has a kitchen, a living room, three bedrooms, but he shares the same room with his parents and his siblings.