Sponsor Now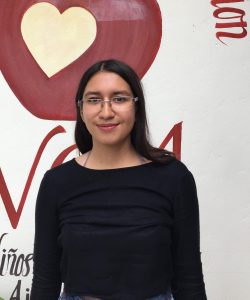 02/24/2000
88.67
Centro Universitario De Ciencias Exactas E Ingenierías (CUCEI)
$1200.00
Aide likes to go to school and her favorite subject at school is mathematics and her least favorite is history. She has skills in mathematics and crafts. She gets along well with her family and friends, her personality is charismatic. She helps her family with the housework, and her brother with the homework, she chose the career of a civil engineer because she likes how the human can build anything things, in her spare time she likes took her dogs to walk. read books, and watch tv and movies.
Her dad´s name is Antonio. he has elementary school education. He doesn´t work because he is pensioner because of a disability.
Her mom's name is Maria Guadalupe. She has high school education. She works as a nurse.
Home: Aide shares her home only with her mother and one sister. Their home has a kitchen, one living room, and two bedrooms with two full beds.