Sponsor Now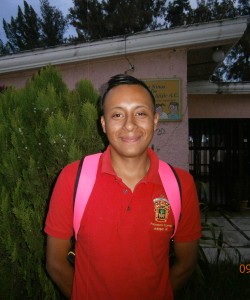 Juan Carlos prefers to be called Carlos, and he is a positive young man. He is the oldest of four children; the other three children are boys.  He has been sponsored through Los Niños since August of 2012. He lives with his parents and his brothers in a small, brick, unfinished house. He has helped with childcare and household duties. He is athletic, he loves sports, especially cycling.
He is studying Business Administration.
Father, Juan Jose, is 39 years old and is a construction worker with steady income. He has an elementary school education.
Mother, Anita, is also 39 years old and has a secondary school education. She cleans houses but her work is not consistent. She is very supportive of her boys and wants them to become professionals.
Juan Carlos and his family live in a house with 2 rooms and one bathroom; they have 1 double and 3 single beds. They live at the end of an alley, after several houses. It is very simple and humble place.