Sponsor Now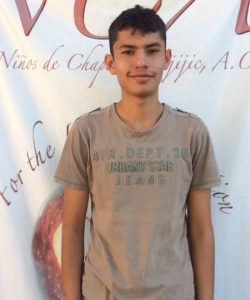 07/07/1999
8.8
Centro Universitario Ciencias de la Salud
$1200.00
Gera likes to cook and to solve math problems. His favorite subject at school is Chemist and Mathematics and his least favorite is Spanish. He likes to go to school. He has only a few friends, and he has a strong personality, also he helps to his mother at her food business. Unfortunately, his father doesn't live with him nor contributes with money. His health is good and when he grows up, he wants to be a Chemist Biologist.
His mother Cecilia has an Elementary Education. Her health is bad and she is a merchant.
Home: Gera shares his home with his mother and two brothers. They rent the house, and it has a living room, a bathroom, a kitchen and two bedrooms with a full bed and a single bed.