Sponsor Now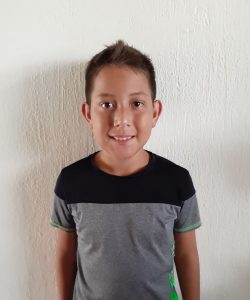 06/09/2009
9.3
Esc. Primaria "Ramón Corona"
$100.00
Antonio likes to go to school and his favorite subject at school is sciences and his least favorite is mathematics. One of her qualities is to run and study science. His personality is friendly, so he has so few friends. He helps her mother with the housework. He likes to play volleyball. When he grew up he would like to be a dentist because he likes to see people smile. In his spare time, he always draws and plays.
Her dad´s name is Francisco. He has elementary school education. He works as a worker.
Her mom's name is Graciela. She has junior school education. She works as a housewife.
Home: Antonio shares her home only with his mother, two sisters and one brother. Their home has a kitchen, and two bedrooms with one full bed and two single beds.