Sponsor Now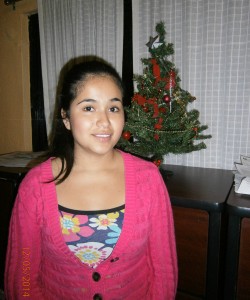 07/04/1994
93.52
Centro Universitario de la Ciénega
$1200.00
She would like to finish her Licenciatura en Derrecho (Lawyer). She likes to dance, sing and act. She loves her teacher and admires her parents. Her favorite subject at school is physics; the one she likes least is history. She helps her mom with the cleaning sometimes.
Her father, Rogelio Orozco, is 54 years old. He sells tacos on weekends, earning $6000.00 per month(approx. $462 USD). He didn't finish Universit. He is in regular health.
Her mother, Ignacia Cervantes, is 53 years old. She takes care of the home and children. She completed primary school. She is in good health.
There are five people living in this household: Caro, her parents and two siblings. The services in the house are electricity, indoor plumbing, refrigerator, gas stove, drinking water and TV. The house has four rooms, a bathroom, two bedrooms, two full beds and one twin bed.