Sponsor Now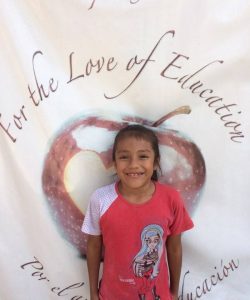 08/05/2009
8
Esc. Primaria "Ramón Corona"
$100.00
Giselle likes to play with her friends. Her favorite subject at school is Arts and her least favorite is Mathematics. She likes to go to school; she has a lot of support from her mother to do her school work. She has only a few friends, and she's hyperactive. Her health is good and she likes football. When she grows up, she wants to be a Teacher.
Her father Victor has an Elementary Education. His health is good and he works at water delivery.
Her mother Georgina has an Elementary Education as well. Her health's regular and she doesn't have a job.
Home: Giselle shares her home with her parents and her two siblings. They rent the house and it has a bathroom, a kitchen and a bedroom with a full bed and two single beds.