Sponsor Now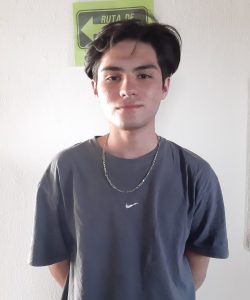 03/05/2003
90.8
UNIVERSIDAD DE GUADALAJARA
$1000.00
ALBERTO WOULD LIKE TO BE A PSYCHOLOGIST
Alberto is friendly. He likes to stay simple and uncomplicated. He likes going to school and his favorite subject is Philosophy, his least favorite is Economy, he has a GAP of 90 out of 100. He would like to be a Psychologist because he would like to learn about human behavior.
He likes to read. He is a very active person, he likes sports his favorite sport is basketball. Also, he loves music; he writes songs and plays the piano, he practices every day. He has few true friends, he likes to spent time with them. He has a close relationship with his family, they usually go out to eat, they go walking and they clean their house together, also he helps his brother with his homework.
His dad´s: name is Alberto his health is good, he finished high school, and he works for an ice bag delivery service.
His mom's: name is Elitza her health is good, she finished university; she works in a beauty shop.
Home: Alberto shares his home with his parents, one brother, and his grandparents. They rent the house where they live; it has a living room, a kitchen and two bedrooms, two full beds, and two individual beds.