Sponsor Now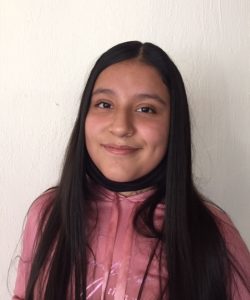 12/12/2007
10
Esc. Secundaria Federal 41 "Santos Degollado"
$200.00
Nathali is a cheerful girl, she is very sociable. She likes to go to school, her favorite class is Mathematics and her least favorite is History. She has many friends, she likes to spent time with them, and she goes to the movies with her friends in her free time.
She would like to be a school teacher because she would like to teach others. She helps her family with the housework. She enjoys spending time with her family spatially on Sundays when they all meet together on the table to eat. She is very creative; she found out that drawing is relaxing. Also, she likes to write about people. One more detail about her is that she likes sports, her sport favorite is basketball.
Her dad´s name is Jose; he works in a bakery in Ajijic as a baker's assistant.
Her mom's name is Guadalupe, she is dedicate to take care of her home.
: Nathali shares her home with her parents, and two younger brothers, their house is borrowed by Nathali´s grandparents, but they pay all the expenses, their house have a kitchen, two rooms with two full beds and two singles beds.