Sponsor Now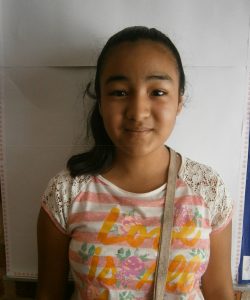 06/30/2006
68
Preparatoria Regional de Chapala
$400.00
"Citlali" likes to drawing and stitch little clothes. Her favorite subject at school is Natural Science; and her least favorite is mathematics. Her parents helps with their homework; and she helps her parents with cleaning their home. She has many friends, and her temperament is regular. Her favorite sport is basketball. When she grows up, she would like to become in a Veterinarian.
Her father Eloy Murillo has a junior high school education. His health good. He works as a chofer
Her mother Lorena Gonzalez has an elementary school education. Her health is good. She works as a housewife.
Citlali shares her home with her parents, one brother and two sisters. their home has a room divided in kitchen, living room and bedroom with one full bed and three single beds.