Sponsor Now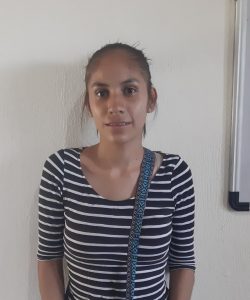 06/02/1999
97.2
Intituto Tecnologico Superior de Chapala
$1200.00
Rocío likes to sports; her favorite subject at school is math and least favorite at school is physic. Rocio likes to go to school; she performs her homework alone. she has many friends; her temperament is sociable and cheerful. Her favorite sport is soccer. She would like to be master of sports, mathematics teacher or preschool teacher. She admires her parents.
Her father died.
Her mother Rocío has an elementary school education. Her health is good.she works cleaning houses.
Rocío shares her home with her mother and two sisters. Their home has a living room, one bath and one bedroom with one full bed and two single bed.