Sponsor Now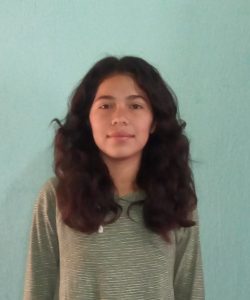 09/07/2001
8.5
Universidad Tecnologica de Mexico (UNITEC)
$1200.00
Fernanda has skills for exhibitions; her favorite subject at school is Data Bases. She likes to go to school and she made alone her schoolwork. She is very friendly and her temperament is quiet. Fernanda helps her parents cleaning their home; and her siblings with the schoolwork. She likes to play basketball; when she finishes the preparatory, she would like to continue studying to be a "Programmer".
Her dad's name is Carlos; he has education in preparatory. His health is good and he works as a mechanic.
Her mom's name is Alicia; her level of education is preparatory. Her health is good and she is a seller of products by catalog.
Fernanda shares her home with her parents and two sisters; Karla and Ximena. Their home has living room, kitchen, bath and two bedrooms with one full bed and three single beds.