Sponsor Now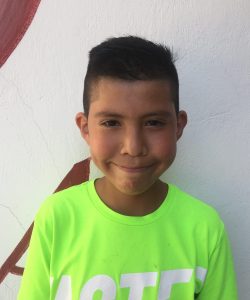 01/16/2005
9.6
Esc. Primaria "Adolfo Lopez Mateos"
Sebastian is a happy boy. He loves to study and to go to school; his favorite subject is Math, but he does not like history. He is a good student with good grades; he has 95 of out 100. He would like to be a doctor because he would like to help people that are sick.
He likes sports, he loves to play in the park soccer, he watches tv, he has a lot of friends and he enjoy spend time with his friends playing soccer. Also, he likes drawing natural landscapes. He loves Sunday picnics with his. He helps his family with the house task and takes care of his little brother; he is a good boy and student.
His dad´s: name is Sebastian his health is regular and he works as a farmer, he plants corn and pumpkins.
His mom's: name is Norma her health is good, she is a housewife.
Home: Sebastian shares his home with his parents and one sister and two brothers. The house where they live is own, it has a kitchen, one living room, two bedrooms, and one full bed, and two individual beds.