Sponsor Now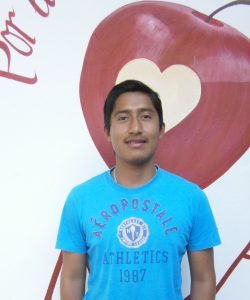 05/22/2002
89.72
CETAC #1-Preparatoria
$1200.00
BETO LIKES TO DRAW; IN THE SCHOOL HIS FAVORITE SUBTJECT IS SCIENCE AND HIS LEAST FAVORITE IS ARTS. HE LIKES TO GO TO SCHOOL; HE HAS A LOT OF FRIENDS AND HER TEMPERAMENT IS QUIET. hIS FAVORITE SPORT IS FOOTBALL; HIS HERO IS "JESUCRISTO". HE WOULD LIKE TO BE A COMPUTER SISTEM ENGENEER.
HIS DAD ROBERTO HAS A SECONDARY EDUCATION; HE WORKS AS A GARDENER. HIS HEALTH IS GOOD.
HIS MOM LUCILDA HAS A SECONDARY EDUCATION; SHE WORKS AS A DOMESTIC EMPLOYEE. HER HEALTH IS GOOD
BETO SHARES HIS HOME WITH HIS PARENTS AND ONE SISTER. THEIR HOME HAS ONE BATH AND ONE BEDROOM WITH ONE FULL BED AND TWO SINGLE BEDS.