Sponsor Now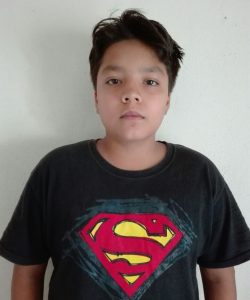 11/21/2003
9.5
Conalep
$400.00
Omar likes to be called *Omarcito*. He likes music and plays the Violin. He likes Natural Sciences and les favorite is Geography. He has a lot of firends. His character is sensible. When he need help in homework he asks his mom. He helps in the chores at home and help his brother making some researches. His favorite spont is tennis. He would like to become a Musician or Psychology. His hero is his MOM.
This is a family who lost the father. The mom is brave and wanted her children improve their future.
Omar shares his home with his mom and his brother. Their home has one bath, one kitchen and two bedrooms with one full bed and two single bed.