Sponsor Now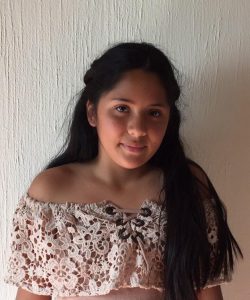 01/07/2008
8.0
Esc. Secundaria "Técnica 83"
$200.00
Maricarmen, She would like to be a Photographer. Maricarmen likes to go to school and her favorite subject at school is crafts and her least favorite is history. She has skills in draw and sing. She gets along well with her family and friends, her personality is imposing. She helps her parents with the house work, she chose the career of a photographer because she like it and she inspired, in her spare time she likes draw.
Her dad´s name is Jorge. He has a high school education. He works as a bus driver.
Her mom's name is Adrian Beltran Galaviz. She has an elementary school education. She works as a domestic worker.
Home: Maricarmen shares her home only with her parents and two brothers. Their home has a kitchen and two bedrooms with one full bed and three single beds.