Sponsor Now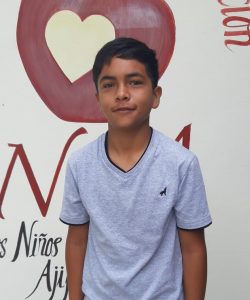 08/31/2006
7.3
Esc. Secundaria "Ricardo Flores Magón"
$200.00
ISRA LIKES TO PLAY FOOTBALL; IN THE SCHOOL HIS FAVORITE SUBJECT IS SPANISH AND HIS LEAST FAVORITE IS MATHEMATICS.
HE HAS A FEW FRIEDNS AND HIS TEMPERAMENT IS GOOD. wHEN HE GROWS UP, HE WOULD LIKE TO BE AN ARCHITECT. HIS HERO IS CRISTIANO RONALDO.
His father, Efrain, has a junior high school education. He works a bricklayer.
His mother, Claudia, has a elementary school education. She is a housewife.
Israel shares his home with his mother, father and three brothers. Their home has one room, one bath and one bedroom with one full bed and two twin beds.