Sponsor Now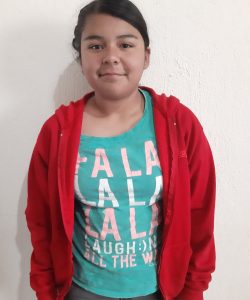 06/16/2007
8.1
Esc. Secundaria "José Vasconcelos"
$200.00
She likes to color. Her favorite subject is Spanish, but her least favorite subject is math. She likes go to school. Her parents help with homework. She has very few friends. She likes to run. Her hero is "Caperucita Roja".
Her father´s name is Aldo. His health is good. He works in a company doing bottled chili.
His mother´s name is Magdalena. Her health is good. She works in home.
Brissia shares his home with her mother, father, grandmother and brother. Their home has three rooms, a bath and two bedrooms with two beds.