Sponsor Now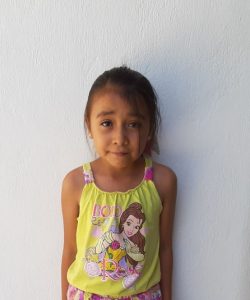 06/14/2013
10
Esc. Primaria "José Encarnación Rosas"
$100.00
Lourdes, She would like to be a veterinary. Lourdes is 5 years old, she is a student who enjoys mathematics, in her favorite subject is mathematics, and her least favorite is music, she loves going to the school, her mother helps with her homework, she gets along well with her family and his friends, she has many friends, she describes herself as a quiet, she helps her parents to pick up her things, in her favorite sport is basketball, she would like to study veterinary because she likes helps the animals, in her spare time she likes paint and read.
Her dad´s name is Carlos. He has an elementary school education. He works as an employed.
Her mom's name is Alejandra. She has a junior school education. She works as a housewife
Home: Lourdes shares his home only with her mother, her grandparents, one brother and one sister. Their house is borrowed, it has one kitchen, two bedrooms with two full beds and two single beds.