Sponsor Now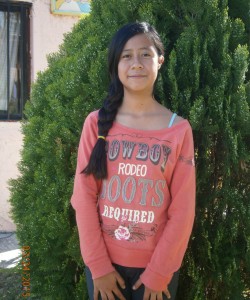 11/19/2001
95
Centro Universitario de Arte, Arquitectura y Diseño.
$1200.00
Andrea gets along well with everyone at school and at home and has a few close friends. She likes ballet and sings in the school choir. In school, her favorite subject is math and her least favorite is geography. At home, she helps out by washing the dishes and reading to her brother. Her favorite activity is jumping rope and her favorite character is Spider Man. When she grows up, she would like to be a doctor.
Her father´s name is Andres and has a junior high school education. His health is good, and he works as a bricklayer.
Her mother´s name is Rocio and finished her second year of junior high school. Her health is good, and she works as a housewife.
Andrea shares her home with her parents, two brothers, grandparents, two uncles and an aunt. Their home has five rooms, a bath and four bedrooms with three beds.