Sponsor Now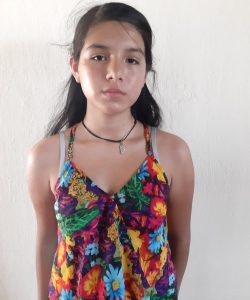 02/06/2007
8.6
Preparatoria Regional Jocotepec
$400.00
Regina is a cheerful and joking girl. She likes to sing and sports, she enjoys to play soccer and basketball.
Her favorite subject at school is Spanish and her least favorite is Geography . She likes to go to school. She has a lot of help from her father with her schoolwork.
When she grows up, she wants to be a Doctor.
Her father Ricardo has a Junior high Education. His health is good and he works as a Builder.
Her mother Blanca has Junior High education. Her health is good, she works cleaning houses.
Regina shares her home with her parents, and her two brothers. Their home has a bathroom, a living room kitchen and 2 bedroom with 2 full beds and 1 single bed.