Sponsor Now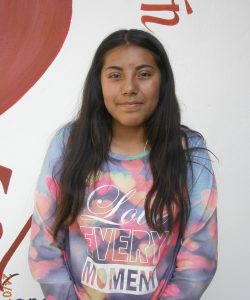 Fer is a quiet and simple girl, she likes to draw and write poetry.
Her favorite subject at school is Sports and her least favorite is History. She likes to go to school. She has a lot of friends. Her favorite sport is football; her hero was her mom. When she grows up, she wants to be a Veterinarian.
Her father Gabriel has never taken his responsibility as a father.
Her mother His mother Guadalupe died. She died of cancer.
Now her grandma Maria de Jesus has the responsibility of Fer. Maria de Jesus has a small store.
Home: Fer share her home with her grandma, one uncle, four cousins and two nephews. Their home has a living room, two bathrooms, four bedrooms with four beds and five single beds. The other people do not contribute financially to the grandmother because they have their own family.