Sponsor Now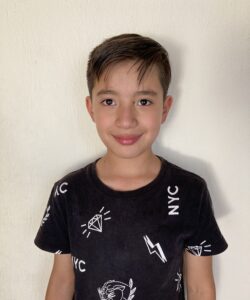 11/01/2012
7.3
Esc. Primaria "Magdalena Cueva"
$100.00
Emanuel is a happy, friendly, and active boy, he likes to go to school his favorite subject is Math; he has a GPA of 8.8 out of 10.
He would like to be a chef because he enjoys cooking; he helps his mother to cook. He likes riding his bike, and going to the park and in his free time he plays soccer with his friends. He helps his family to clean the garden, water the plants, and to do other house chores. He likes to play with his younger brother.
His dad: He does not live with them and he does not support them.
His mom's: name is Monica, she is a single mother, her health is good, she studied until high school, and she works as a cashier in a supermarket.
Home: Emmanuel shares his home with his mother, his grandparents, three uncles, one cousin, one young sister, and one young brother. They live in his grandparents' house; it has a kitchen, three rooms, two double beds, and five individual beds.