Sponsor Now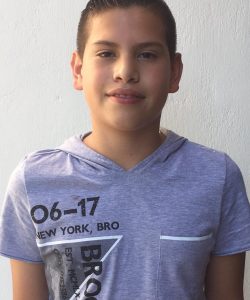 10/09/2006
8.5
Esc. Secundaria "Técnica 83"
$200.00
Jose is an excellent student who loves being in school and it shows; His favorite thing is to study, and his second favorite thing is to help his brother with his homework, and if he has time after all this, play some soccer, which is his favorite sport. This young man has everything it takes to succeed. He has a very friendly and outgoing personality and therefore has lots of friends. He helps his Mom on a regular basis with the cleaning of the house.
His father has a high school education and works as a fireman.
His mom's name is Maria del Refugio. She has an elementary education, she takes care of the family
Jose shares his home only with his parents and his two sisters. Their home has a kitchen, three bedrooms with two full beds and one single bed.