Sponsor Now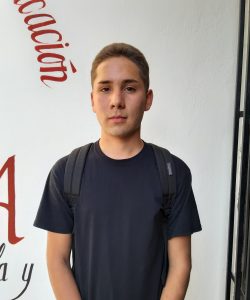 02/10/2001
89.69
Preparatoria Regional Jocotepec
$0.00
Jonathan, He would like to be a Psychologist. Jonathan likes to go to school and his favorite subject at school is life plan design and his least favorite is Democracy. He has skills for draw, and sports. He has many friends. He gets along well with his friends and with his family. He has a friendly personality. He has a part time job to help with the house expenses. His favorite sport is box. His favorite hobby is play and walk. He would like to be a psychologist.
Her dad´s name is Jorge. He has a high school education. He works as a driver.
Her mom's name is Adriana. She has an elementary school education. She works as a housewife.
Home: Victor shares his home only with his parents, one brother and one sister. Their home has a kitchen, and two bedroom with one full beds and two single bed.