Sponsor Now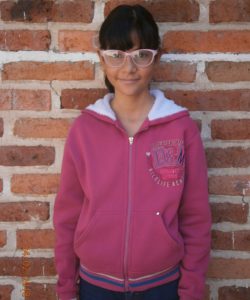 07/26/2004
9.2
CETAC #1-Preparatoria
$200.00
Diana likes to go to school; her favorite subject at school is Mathematics. Her mother and sister help her with her homework. Diana has a lot of friends and her temperament is very quiet. She helps her family with the home duties. Her favorite sport is football and her favorite cartoon is "Ratatouille". She would like to be an excellent "Chef".
Her dad's name is Cinlo; he has a good health. He has a junior school education and he works as a gardener.
Her mom's name is Maria; her health is good. She has a bachelor´s degree in education. She is a Teacher.
Diana share her home with her parents, two sisters and one cousin. Their home has a bath, kitchen and two bedrooms with two full beds and three single beds. Her family pay for rent house $80 dollars per month.