Sponsor Now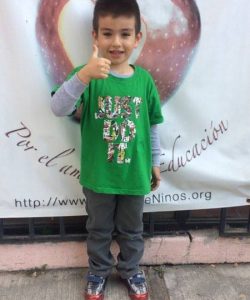 10/05/2011
NA
Instituto Loyola de Chapala
$100.00
Joseph likes to play with clay and to draw. He likes to draw at school, but he doesn't like that much to write. He likes to go to school. He has a lot of friends and he's very restless, also he helps to his mother by picking up his toys. He has some language problems, and when he grows up, he wants to be a Doctor.
His mother Margarita has a High School Education. Her health is good and she is her husband's secretary.
His father Eduardo has an Elementary Education. His health is good and he's a Gym Instructor.
Home: Joseph shares his home with his parents. They rent the house, and it has a living room, two bathrooms, a kitchen and two bedrooms with two full beds.