Sponsor Now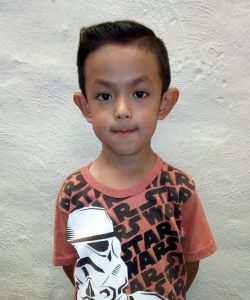 Isaac is a good child, he would like to be a Policeman. Isaac likes to go to school and his favorite subject at school is a sport and his least favorite is play with his friends. He has the skills to learn very faster. He gets along well with his family and friends, his personality is short-tempered. He helps his parents pick up his toys, his favorite sport is soccer, he would like to be a policeman because they help society, in his spare time he likes to play Legos figures and play with his brother.
Her dad´s name is Andreti. He has an elementary school education. He works as a carpenter.
Her mom's name is Betzabet. She has a high school education. She works as a housewife.
Home: Isaac shares his home only with his parents, one brother, his grandparents and one uncle. Their home has a kitchen, one living room, and one bedroom with two full beds and one baby crib.