Sponsor Now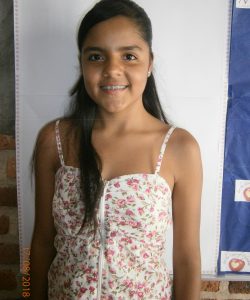 03/03/2005
89.63
Preparatoria Regional de Chapala
$400.00
Marisol likes to dance. Her favorite subject at school is Spanish and her least favorite is Mathematics. She likes to go to school; she's very independent and she doesn't need any help for her school work. She has a lot of friends, and she helps to her mother by cleaning their home. She has some vision problems and she likes folkloric dance. When she grows up, she wants to be a Teacher.
Her father Felipe has a Secondary Education. His health is good and he's a blacksmith. He doesn't live with Marisol, but he contributes with money for her and her sister.
Her mother María has a Secondary Education as well. Her health is good and she works as a contractor.
Home: Marisol shares her home with her mother, her sister and her grandmother. They live at her grandma's home, which has a living room, a bathroom, a kitchen and three bedrooms with two full beds and two single beds.