Sponsor Now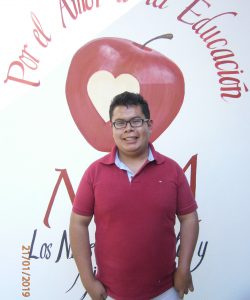 10/08/1995
95.33
Centro Universitario de la Ciénega
$1200.00
Tonny had cerebral palsy at birth, but fortunately, a slight case, which has enabled him to live a fairly normal life. He limps, one hand can not move easily. His left side is slower than his right; however, he remains a happy and positive young man.
Tonny takes the initiative to keep up with his studies in spite of difficulties. He takes challenges well, loves to study, and maintains a GPA of 90, no small accomplishment! Tonny has many friends, and describes himself as a calm and sociable person. He enjoys considering the future, how best to succeed. His impediment has not stopped him from assisting with school expenses. He helps a lady sell balloons in Chapala every day. He makes 100 pesos a week, pays some school expenses and helps his mother. He is proud of his efforts!
Tonny's vision is to join the Mexican Foreign Service. He Wants to better his and his family's lives, and to be able to help others.
He is in on process of his lawyer degree title .
His mother, Adriana, She is diabetic, and cannot work outside the home.
Toni lives in his mother's home, shared also with brothers, a sister, her husband, and their family of three. Their home has four rooms, a bath and three bedrooms with three beds.