Sponsor Now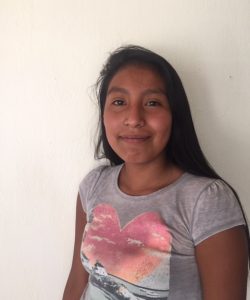 Sulema likes to use computers, her favorite subject at school is Mathematics and her least favorite is Spanish. She likes to go to school and her temperament is sensitive and she is frendly. She likes to play basketball and she wouls like to become a teacher.
Her father does not live with her.
Her mother Angelica has an Elementary education, her health is good. She works cleaning houses.
Sulema shares her home with her mom and two sisters. Their home has one bathroom, kitchen and one bedroom with two full beds.